The battle for control of Checkpoint Charlie and the Berlin Wall rages on in this mid-sized map set in the cold of German winter. Twisting streets and prosperous businesses line the West. Watch for snipers perched on balconies and behind the second story windows of Blume Bücher & Musik and Schulz Apotheke. Equip the Flak Jacket to survive the bombardment of grenades bursting in the small buildings. Expect blasts to be followed up with frenetic, close-quarters combat - shotgun and SMG loadouts will be particularly abundant on this side of the Wall.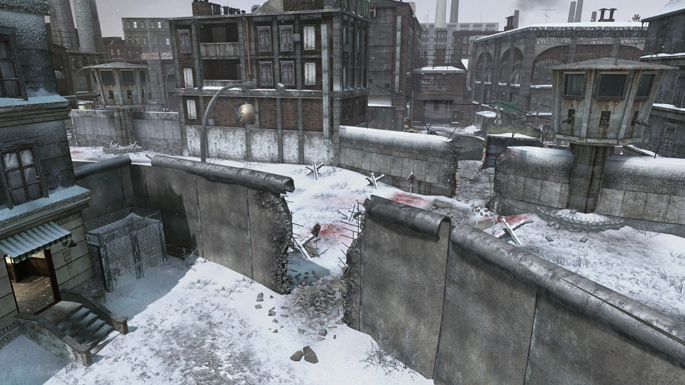 Towering buildings in the East lend shooters a commanding view over the terrain, and their open layout encourages frequent group skirmishes. Cover each other's backs when moving through the distillery and count on heavy resistance and Claymore placement through Täglich Zeitung. Assault Rifles provide a great balance between the open road and overlooking buildings.
Run as fast as you can when crossing between the two sides. Automated gun towers shoot everything in sight. If they don't get you, you can bet an enemy soldier peaking over the border from a nearby building will. Danger lurks around every corner, inside every building, and on both sides of the Wall. The fate of democracy and the German people rests in your hands - defend it well or crush it under an iron fist.